In this article, we take a look at proposed new stadium designs put forward by a number of non league clubs ready for construction.
Just five days ago, Ebbsfleet United became the latest side to reveal ambitious plans for the ground, a new 8,000-seater stadium on the site of a waterfront leisure and shopping destination.
The Kent outfit are seeking to secure their future on the pitch while helping re-shape its largely industrial surroundings.
The emerging plans are for a c.40-acre brownfield site located in Ebbsfleet, close to Northfleet's historic harbour and the river. Its redevelopment will bring up to 3,000 new jobs in the retail, leisure and service sectors, including apprenticeships during construction and end use employment opportunities, providing a real boost to the local economy. The plans will also secure the long-term future of the club by building a new multi-purpose 8,000 capacity stadium.
Today, we are delighted to announce our exciting proposals for a new multi-purpose 8,000 capacity stadium – securing the future of the club. (1/4) pic.twitter.com/gpvWce2BgJ

— Ebbsfleet United FC (@EUFCofficial) July 6, 2022
The vision is to design a new and vibrant neighbourhood with new homes, shops, cafes, offices, medical servicesand community venues. There will be over 3kms of new pedestrian and cycle links through the community and along the Thames improving connectivity to Gravesham town centre, and publicly accessible green spaces across the site.
This unique opportunity will consider the sites natural waterfront position and diverse cultural heritage, creating a place for everyone and attracting new visitors to the area.
A spokesperson from the Northfleet Harbourside said: "We are pleased to be bringing forward this exciting proposal in Gravesham, with a new stadium for Ebbsfleet FC at the heart of the new neighbourhood.
"Stonebridge Road Stadium is a special place for the club and its supporters, and as such we need to continue investing in its facilities to not only ensure we comply with modern safety regulations, but to also secure the long-term future of the club. The new venue will provide best in class public amenity, catering and tiered seating for the club supporters, alongside wider community benefits including a new sports medical facility.
"We are excited about our plans for Northfleet and look forward to meeting with residents, businesses and the wider community to discuss our proposals."
Consultation is planned for this summer when initial plans for the regeneration of the site will be shared with the community. Residents will have the opportunity to share their ideas through interactive workshops to be held at the Football stadium.
Following consultation and the development of the proposals, an outline planning application is likely to be submitted at the end of this year to Gravesham Borough Council.
MARGATE
Back in 2021, Margate got the go ahead for their impressive stadium redevelopment which is sure to bring in new fans to the Isthmian League club.
Plans for a 120-bed hotel, new stands, restaurant, café, club shop and car parking at the non league outfit been given the green light following consultation with the Secretary of State.
Margate's application was developed with hotel partner IHG Hotels and the brand Holiday Inn Express to reflect increased demand for hotel rooms in Thanet.
The East Block will be used for a 120-bedroom hotel together with restaurant and bar facilities.
The building will also include space for MFC club offices and a club shop together with the stadium control room.
The stand will be all-seater and have a capacity of 650.
The North Stand will be a terrace with a capacity of 1,300 and behind this and integrated into it, there will also be space for first team home and away changing facilities, together with ancillary spaces associated with the first team.
On the ground floor, there will be several studio spaces for sports and associated activities.
On the first floor there will be a café/bar facility which overlooks the pitch.
The car park is to be extended to provide 104 parking spaces and will provide access to all of the East Block offices, shop and hotel. The North End turnstiles will be renewed and relocated.
Plans for a hotel development at the Hartsdown site were originally granted in 2012. Really goes to show how long this has took.
The initial scheme was for a football stadium, an 80 bed hotel, fitness club, children's club, children's play area, theme bar, conference and banqueting suites, hospitality boxes, admin offices, boardroom, 10 five a sides and a full size all weather pitch and associated parking and landscaping.
The current plan rearranges the internal space of the hotel to expand the rooms to 120 instead of the 80.
Developer contributions secured from Margate FC include £12,338.16 for the Strategic Access Management and Monitoring (SAMM) plan to offset the potential impact on protected birds at European designated sites from increased visitors from the district to these areas.
Thanet Council had been required to consult the Secretary of State due to an objection from Sport England over losing the open space with the extension of car parking taking a plot of land at Tivoli Park, however the go-ahead has now been granted.
CAMBRIDGE CITY
In 2012, it was announced that the club's President, Len Satchell, had purchased 35 acres of land in Sawston, a village 9 kilometres/ 6 miles south of Cambridge, with a view to building the club a new 3,000 seat stadium, alongside community facilities for the surrounding area.
Following public consultation and an appeal over the decision to grant Planning Permission, construction began in January 2021 and is scheduled to open in late 2022.
In December 2021, Cambridge City confirmed that their target for moving into their new stadium in Sawston had been pushed back to the summer.
The club released a statement which stated that their stadium build has experienced delays due to "rising cost and dwindling availability of steel".
The Lilywhites have been groundsharing since the 2013-14 season, currently playing at Histon's Bridge Road.
Since their move away from Milton Road in 2013, the club have groundshared with Histon twice, also having a spell at St Ives Town's Westwood Road in between.
Piling work has been completed, and the foundations for the main stand are were poured in early January with the main stand structure appearing from February onwards, whilst the three standing terraces are due to be completed later in the New Year.
Work is progressing well on the new main stand at Sawston, you can really begin to picture the size and scale of what's coming! pic.twitter.com/zTm5DAy5rC

— Cambridge City FC (@cambridgecityfc) July 7, 2022
HUCKNALL TOWN
Dreams of playing at a long-awaited new stadium will soon become a reality for Hucknall Town.
For more than 15 years, the club and their fans have long hoped of a move from their current Watnall Road base.
Their new home is just a few hundred metres away on Aerial Way, and the new ground along with two floodlit pitches and clubhouse is expected to be completed in September – with the hope that the majority of the 2022/23 season will be played there.
Town chairman, Bob Scotney, said: "This is a very exciting time for both the club and the town.
"Football is at the heart of the community and, after a very long and protracted period, we are finally on the move to a brand new ground.
"This will vastly improve the experience for both our loyal and new supporters, as well as others who use the clubhouse for various functions."
Watnall Road, which has been Hucknall's base for almost 80 years, is owned by Bolsover Estates, and a deal has long been on the table to allow Town to move to a new home, funded by the company.
SOUTHEND UNITED
Southend United reveal more details in an update on their new ambitious stadium plans, but have reduced the initial capacity for it.
The National League outfit are set to bring the seating numbers to 17,000 as they hope to start the 2024/25 season from the proposed stadium at Fossetts Farm.
The current Roots Hall ground is expected to be turned into 502 new homes for rent once the football club has relocated.
STATEMENT
Our target is to commence the 2024/25 season from the first phase of the new stadium at Fossetts comprising, initially, the south, east and west stands that will incorporate a range of corporate and entertainment space (see below).
Next week we will submitting a Scoping Opinion, ahead of a formal application, to refine the stadium design. We are seeking permission to amend the design to achieve the following:
Reduce the overall capacity of the seating bowl from 21,000 to 17,000
Amend the west stand to create our version of the "Kop End" with safe standing
Increase the commercial space throughout the first phase of the stadium (mainly in the south stand).
We hope that these refinements will lead to two principal benefits for the Club:
Enhanced revenue generating opportunities for the Club, both on matchdays and non-match days.
A much-improved supporter experience and better atmosphere.
Importantly, our architects, world renowned stadia architects Populous, have been instructed to maintain the architectural integrity that is currently proposed. 
A capacity of 17,000 is substantially more than Bournemouth and on par with Brentford, both teams have shown themselves to be well capable of competing towards the top end of the football pyramid. Our aim is to provide an infrastructure to enable us to emulate the success that teams such as these have had.
The commercial areas will include a range of Bars, Restaurants, the Club Shop, Ticket Office and Conferencing and Banqueting space. In addition to the Supporter's Bar in the South Stand, we will have a large bar area in the West Stand (with music and entertainment) and we will have great food offerings throughout. Indeed, we are using this opportunity to carefully plan the detail of the various food and beverage offerings and hope to share some exciting proposals soon.
The extra commercial space in the first phase will provide us with additional non-matchday opportunities, supplementing the commercial offering in the North Stand (where further enhanced commercial activity will take place). The North Stand will comprise corporate boxes, several conferencing rooms and a ballroom capable of seating 700 guests. 
Our consultants have produced the following early visual which we hope gives a feel of how the new stadium will look if the amendment is passed. We will be releasing further images in due course once the plans are further progressed.
All in all, the planned commercial space will help us move from a 30 day a year business to something approaching a 365 day a year business.
The new stadium will be game changing – the Club's future is bright.
🔹 17,000-seater stadium
🔹 'Kop End' with safe standing
🔹 Increased commercial space in first phase

Substantial progress has been made towards our goal to move to a new stadium.

Read more 👇

— Southend United FC (@SUFCRootsHall) June 14, 2022
HASTINGS UNITED
In 2021, Hastings Borough Council decided not to sell Tilekiln playing fields for a new Hastings United football stadium.
The council agreed in 2018 to look at the plans in detail to ensure they met certain criteria before a sale could be agreed.
A spokesman said: "Since then both the club and the council have spent a lot of time considering how this might work.
"The club meanwhile submitted planning applications for both Tilekiln and a housing scheme at Pilot Field in 2020, even though there were outstanding issues to be agreed before Hastings Borough Council could commit to the sale of Tilekiln."
The council said that since discussions began it had declared a Climate Emergency and had to rethink its priorities after two years of the Covid.
The spokesman added: "As a result, it has been decided that protecting our green spaces for open and free community access is vital, and that the needs of the local community in Hollington who currently use the fields year round for recreation, dog walking and sports is paramount.
"It is hoped that the new partnership with the Football Foundation will secure investment in the three grass pitches at Tilekiln, and that further detailed work can be done to examine what is needed to support Hastings United remaining at Pilot Field. The existing ground is owned by Hastings Borough Council, and the council is keen to demonstrate support for the club by seeking external funding to improve facilities there."
Cllr Paul Barnett, deputy leader of the council, added: "The world has moved on since we started talking about this four years ago, and our priority now has to be to protect and invest in our green spaces, and wherever possible reuse existing buildings rather than build new ones. This means ensuring that Tilekiln, a well-used and popular community facility, is preserved for the people of Hollington.
"We realise how disappointing this will be for Hastings United, and those of their supporters who are keen to see a better ground. We admire the work they have done on the pitch over the last two or three years, including starting an excellent womens team, and expanding their community coaching. So we hope to find other ways of supporting the club, and will be seeking an early meeting with them to look in detail at what is needed to improve Pilot Field so that their growing attendances can attend matches in comfort.
"Sport is an important element in improving people's health, and post pandemic, we want to see improved facilities in the centre of our town that are easily accessible to all. So we are in discussion with a range of partners about how best to do this, and will be announcing new plans for investment soon."
A Hastings United Football Club statement said: "Hastings United Football Club can confirm they have received confirmation from Hastings Borough Council that they no longer want to proceed with the redevelopment of Tilekiln Playing Fields for a multipurpose sporting facility complex, which would include a brand-new stadium.
"Sadly, there seems to have been a change in mindset from the council on the project which disappointingly has led to the club wasting the last two years of planning at considerable cost."
Regarding the redevelopment of The Pilot Field. The statement added: "We as a club are open to listen to the council's proposals and look to hold a meeting with them immediately. We will update supporters after the meeting has taken place."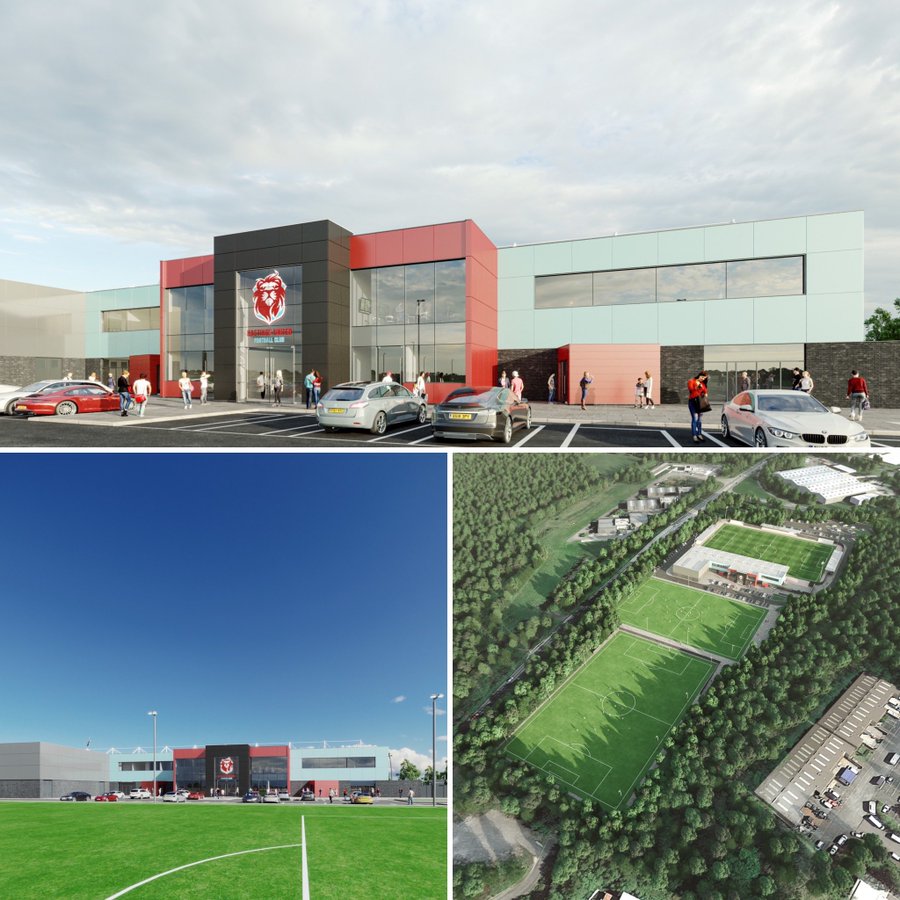 LEAMINGTON
A local council had agreed to buy the current ground to put a travellers camp on it with Leamington relocating to a community stadium – but there's no agreement or development underway hence council refusing planning to grow the current stadium and no plan for the new one signed.
The plans which were developed by Leamington FC and the Council, would see the construction of a 5000 capacity football stadium with a 3G artificial pitch, conference facilities, a gym, bar, café and community facilities on land adjacent to Europa Way and Gallows Hill.
A master plan has been developed for the whole site showing how all the different uses can be accommodated. The council said they were working closely with Leamington FC to ensure the new facility meets the needs of the club and the local community.
WOKING
On the 15th of December 2021, Housing, Communities & Local Government secretary Michael Gove blocked plans to expand Woking Football Club's Laithwaite Stadium.
The plans would have seen a 9,026-capacity arena built on the site of Woking Football Club's existing Laithwaite Community Stadium on Kingfield Road.
The project would also have included construction of 1,048 homes on surrounding land, more than 40% of which would have been affordable.
A club shop and a medical centre were also included in the rejected scheme, along with parking for more than 900 cars, most of them for residents' use.
Woking Borough Council chief executive Julie Fisher said: "I know that many residents, who campaigned passionately against the development proposals submitted by GolDev, will be relieved by this decision.
"Without planning permission, it means that all financial and development agreements entered into between GolDev and Woking Borough Council shall be brought to an end."
The likes of Poole Town and Darlington are also planning to get a new stadium, the former wanting one the size of Bournemouth, while the latter want a new ground, which will allow capacity of between 5,000 and 8,000 fans, could be built in time for the 2025/26 season.
#Proposed #stadium #designs #put #league #clubs